Soar high over the sparkling waters of Siesta Key and Anna Maria Island

.

Parasailing in Siesta Key and Anna Maria Island is the premiere experience you've been looking for. Our licensed and insured parasail captains will ensure a safe and exhilarating adventure!
Siesta Key and Anna Maria Islands' most popular attractions are the crystal blue waters and pristine beaches.
The best way to experience everything our tropical paradise has to offer is on an exhilarating flight with us! Float peacefully on an island breeze, admiring the birds-eye view of Sarasota, Siesta Key Beach, Lido Key, Anna Maria, Tampa Bay and the Gulf of Mexico. Keep an eye out for dolphins, sea turtles, and more of our local wildlife from your secure seat in the sky.
Parasailing is an exciting recreational activity that involves taking passengers into the air by the inflation of a specially designed parachute, called a parasail wing. Passengers are secured safely into a harness attached to the parasail, which is connected to the boat by a tow rope. The boat then resumes motion, carrying the parasail chute and up to three flyers safely into the air. Our hydraulic winch system smoothly lets out 1200′ of rope so that the parasail wing can rise up to 450 feet above the beautiful waters of Siesta Key and Sarasota.
As we cruise out to our FlyZone in the Gulf of Mexico, expect to see dolphins, manatees, a tropical bird sanctuary, and other local wildlife. While parasailing, you can enjoy breathtaking views of Siesta Key Beach, Downtown Sarasota, Lido Key, and more. You may even catch dolphins playing in the surf!
The minimum age to parasail is 5 years old. There is a minimum combined weight of approximately 150 lbs. The maximum combined weight is approximately 450 lbs. The weight restrictions may change throughout the day, based on wind and weather conditions.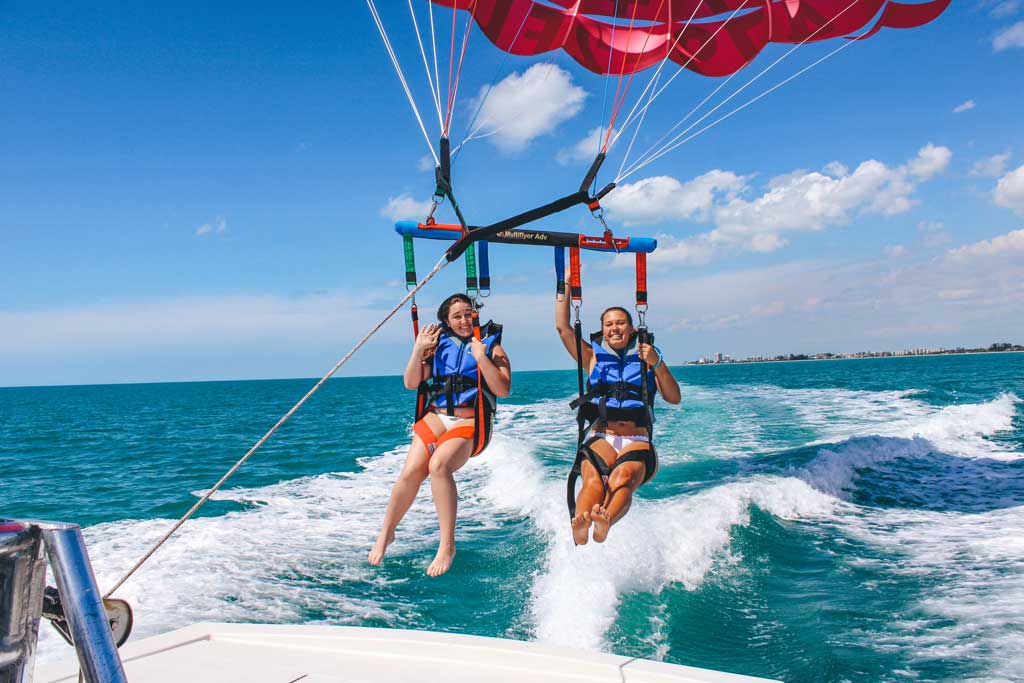 $90 / Person
$80 / Person Early Bird
Siesta Key
38 feet of fun, our skiff style tour boat is great for sunsets, dolphin watching and sandbar visits.
Siesta Key Marina
1265 Old Stickney Point Rd, Sarasota, FL 34242
Anna Maria
Join us for a cruise complete with a treat...doughnuts in the morning, or drinks in the afternoon.
Keyes Marina
5501 Marina Dr, Holmes Beach, FL 34217, USA
Enjoy a fun, relaxing day as you bask in the natural beauty of Siesta Key and Sarasota Bay on one of our fun tours.
All of our tours depart Siesta Key Marina daily. For departure  times or more information, please call us at (941) 400-2763.